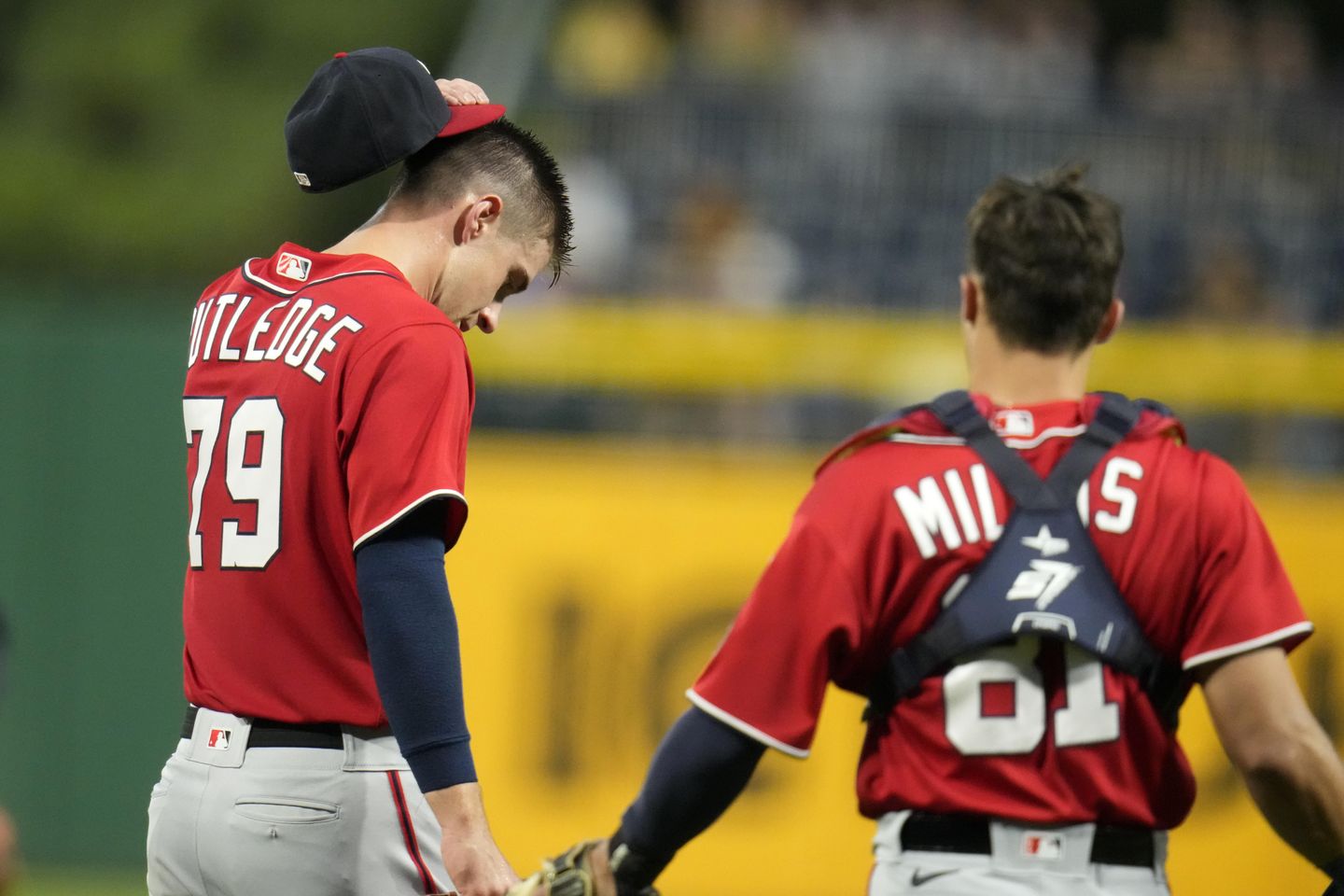 Bryan Reynolds hit his 21st homer and singled twice to help the Pittsburgh Pirates beat the Washington Nationals 7-6 on Wednesday night.
Josh Palacios and Liover Pegeuro added two hits and an RBI apiece for the Pirates, who jumped on Jackson Rutledge (0-1) early in his major league debut — then held on late.
Pittsburgh rookie Quinn Priester (3-2), back up for his second stint in the majors after six rocky starts earlier in the season, worked four-plus innings to earn the victory. David Bednar endured a bumpy ninth, allowing a run and loading the bases with one out before getting C.J. Abrams to strike out and Lane Thomas to fly out to end it.
Dominic Smith hit his ninth home run for Washington. Rookie catcher Drew Millas hit his first major league homer for the Nationals, who fell to 4-10 in their last 14.
Rutledge, the 19th overall pick in the 2019 draft, endured a painful major league debut in multiple ways.
The 6-foot-8 right-hander gave up seven runs in 3 2/3 innings and took an errant throw from Millas off the back of the head in the fourth when Millas was attempting to throw out Pittsburgh's Ji Hwan Bae on a steal attempt.
The 24-year-old Rutledge stayed in the game after being examined by trainers and, five pitches later, Reynolds turned on a changeup and sent it soaring high off the foul pole down the right-field line for a two-run shot and a 7-1 lead.
It nearly didn't hold up.
Priester, taken one spot ahead of Rutledge in the 2019 draft, came on in the second inning following opener Colin Selby. He retired the first 10 batters he faced, showing off a fastball that topped out at 97 mph, a significant uptick from his first stint in the majors.
The 22-year-old, however, quickly ran out of steam. Millas hit a solo home run in the fifth to make it 7-2. Things got worse in the sixth. Abrams walked, Thomas hit an RBI double and Smith followed with a two-run homer that got the Nationals within two.
Priester was removed after Joey Meneses followed Smith's show with a single, giving up four runs on four hits with a walk and four strikeouts in four-plus innings.
The Nationals, who signed longtime general manager Mike Rizzo to a multiyear extension earlier in the day while he oversees a top-to-bottom rebuild, made it interesting late but couldn't come all the way back.
TRAINER'S ROOM
Pirates: SS Oneil Cruz (fractured left ankle) has resumed hitting and is taking ground balls. Cruz, who was injured in early April, won't return to play this season but could be cleared for what the club called "high-level baseball reps" at the team facility in Bradenton, Florida over the winter.
UP NEXT
The series concludes Thursday with an afternoon game.